If you need to collaborate with staff on documents but are unable to connect to the SGN (state government network) using VPN, the steps below will help you connect to the Office365 environment over wifi with your DES account. You will need to make sure you have set up Multi Factor Authenication (MFA) before connecting. Here is more information on MFA.
From a browser, launch https://www.office.com
In the upper right-hand corner, select Sign in.
Enter your work email address in the Sign in box and click Next.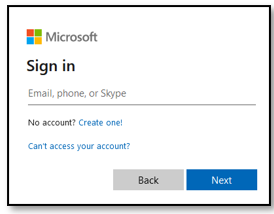 Choose Work or school account.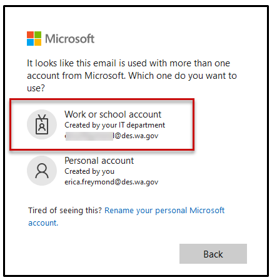 You will be taken to the State of Washington page and will need to enter the password you log on to your computer with. Enter the password and click Sign in.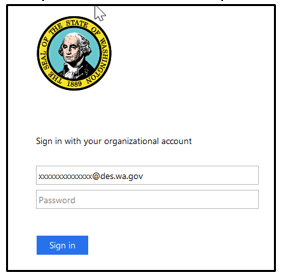 To log on to the network using MFA, you will need to approve the sign-in. When you set up MFA, you entered a phone number and/or set up the Authenticator app. You will be asked to either approve the login via the Authenticator App on your mobile device or you will be text a code to your device.
Once you are logged into M365, you will be taken to your office.com account. From this account you can access your email, your OneDrive, Teams and other online office applications.
Click on the Teams logo in the left-hand column.

If you get a pop-up asking to Allow cookies, choose Allow.
In the left-hand column, you will see all the Teams that you own or have been invited to. In this case, you will see DES-COMMS with a channel called File Share. This is the location you will use to create and collaborate on documents with staff inside the SGN.

Click the drop-down next to Files. This is where you can create new documents or edit existing documents.