Quick Assessments are online quizzes you can build within the LMS to test your learner's knowledge. They work best as part of an activity structure (such as a curriculum) so you can check what your learners remember about activities they have just completed. That said, you can also set them up as standalone activities too.
The Quick Assessment activity is comprised of question banks, which contain questions. You can associate one or more question banks with an assessment and then pick specific questions from each of the question banks to create a full list of questions.
Once you have your list of questions you can randomize the order, decide how many questions the learner must answer, set a passing grade, and more.
Note: Before you begin make sure you have created at least one Question Bank and questions as you'll need to associate them with your Quick Assessment before you can publish it.


Navigation
Click Admin


Click Learning Management


Click Activity Management


Click Learning Activities




Click New Activity. This will open a new dialog box.


Scroll down to Quick Assessment. This will open a new screen.




Input the Name


Verify the Domain


Click Browse to select an image


Verify Activity Type is Quick Assessment


Input the Code. Remember no spaces ( ) or hyphens (-), you can use underscore (_)


Add a Description


Click Browse to change the Owner


Input Contact Name


Input Email of contacts


Add a URL for additional information if desired


Add keywords.


Click Optional. This will take you to the Optional Page. Note: for this example, the rest of the settings will be handled on the Optional page.




Under the Web Based Training menu click Quick Assessments. This will open the Quick Assessments dialog box




If you want to set a Maximum time to complete assessment, enter the Hours and Minutes.


Decide if you want to Randomize the display of questions in the assessment to ensure that each learner gets to view questions in a different order.


Update additional properties as needed (see blue box below)


Enter assessment feedback (if desired)


Scroll down to the Question Banks Section to continue (not shown).



Click Add. This will open the Add Question Banks Dialog Box.




Select the Question Bank(s) you wish to associate with the Quick Assessment.


Click OK.




Use the Arrows under Random Question to select questions from the question bank. You must select at least one.




Under the Configure general properties for your activity menu select Grading and Completion. This will open a new dialog box.


Set the Minimum Percent Required



Click OK. This will return you to the Optional Page.
Click on General under the Web Based Training menu. This will open a new dialog box.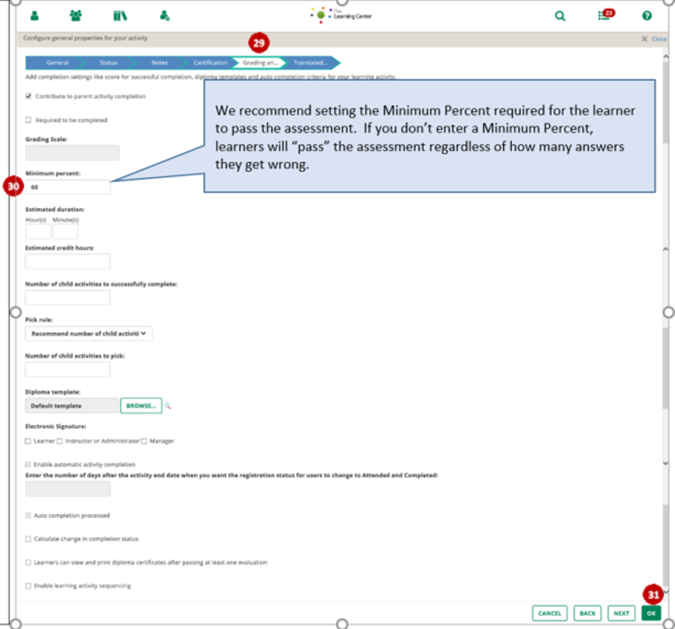 Select the Web Based Properties you wish to you. We recommend setting the following:


Maximum Attempts


Properties for Online Content Relaunch


Properties for Online Content Access Duration


Click OK which will return you to the Optional page.




Click on Availability under the Registration menu.


Click Open for Registration


Click Allow one click registration


Click Next which will take you to Audiences where you will set who can view the assessment in the library or search for the assessment.




Click Add which will launch the Add Audiences dialog box.




Click the audience(s) you wish to add.


Click Next which will take you to a confirmation page.


Click OK to add the audience (not shown)


Click OK (not shown)


Click Validate for Production (not shown)



Click Move to Production (not shown)