In Teams, under "Files" you can add columns to provide more information about each file. You can then use these columns to filter and sort your files as a more flexible version of folders.
To add a Column in Teams:
Go to "Files" tab

At the top of the Files list, click "Add Column"

Choose what time of data / column you want to add.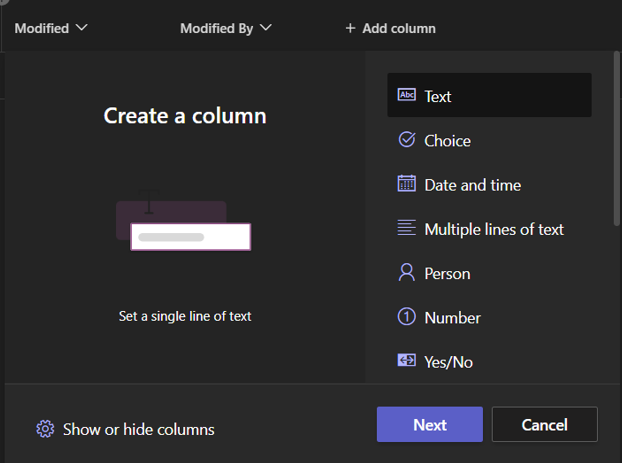 Text: Users can enter free text to describe the file. This should be used sparingly, as free text is prone to errors and makes it more difficult to filter and sort by.
Choice: Users can chose from pre-set entries.Date and Time: Users can enter a date and time
Multiple lines of text: User can enter a larger amount of free text.
Person: Users can select an individual from the Directory. This will not trigger any workflow for the individual tagged.
Number: Users can enter a number
Yes/No: Users can check "Yes/No." (You can name the column a relevant question)
Hyperlink: Users can enter a hyperlink
Currency: Users can enter an amount of currency (the column can be set to the relevant currency type)
Image: Allows users to attach an image to the file
Managed metadata (not available)
Lookup: Allows you to limit choices in the column to entries on a SharePoint list already established. For example, you may have a customer list that you want to use to tag documents.
NOTE: For each type of column, you can also select "Require that this column contains information?" This will require individuals saving or moving a file to the Library to add information not this column.

Creating Filters / Views
In Teams / SharePoint you can create Filters to sort and group files based on any column. To save your filters, you can create a "View" that will automatically apply the filters or the sort whenever you select the View. You can also make a View the default for the Document Library.
Choose "Save view as"
Name the View something relevant
To allow others to see the View, make sure to select "Make this a public view"