Before you can set up Premium Voicemail, you need to put a ticket in with DES IT Support 4U and request an upgraded voicemail box. There is a cost associated with the upgraded mailbox. A standard mailbox costs $3.83/month and Premium is $5.00/month
CONFIGURING PREMIUM VOICEMAIL
The Aura voice mail includes a web page that allows you to set up some of your user preferences. The URL for the User Preferences web page is: https://myaura.cts.wa.gov/user.
Logging in:
To log into the user preferences enter your 10 digit mailbox number followed by your voice mailbox password.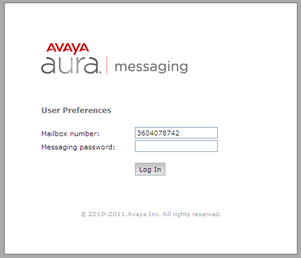 General Tab


If you will be using "notification" you must check Other mobile phone or pager under the Mobile Phone or Pager heading and then put in your 10 digit mobile or pager number.



NOTE: DO NOT CHANGE

your zero out destination. The zero out destination is often times a software only number that must be programmed in the phone system. To change your zero out destination please notify your system administrator.




Reach Me
When enabled, the Reach Me feature in Aura will call you at the numbers defined in your settings when you do not answer your phone or when your extension is busy.



You must complete the following fields in order to utilize the reach me feature:

Caller Categories: Does this feature apply to all callers or only priority callers (priority callers are other voicemail users on the system)

Call Handling: Once the reach me feature has been configured you can determine if it is to be used or if call should go to voice messaging.

Reach Me Numbers: (This setting is applicable only when reach me is enabled) From the drop down boxes enter the reach me number/numbers (up to 3). Enter the ring threshold (usually 3)

Reach Me Schedule: This enables you to specify a time schedule for specific days of the week when reach me is to be active.



Notify Me
To have the system notify you with a text or phone call when you have new voice mail messages, populate the fields under the "Phone Notifications" section.

With a phone call to - When selected, Aura will call you at the designated number when new messages arrive. You will be notified that you have a new message and then you will be prompted to enter your PIN. Once your PIN is entered you have full mailbox functionality and can listen and process new messages.

With a text message or page to – When selected, Aura will send a text message to the cellular number entered on your general page under "mobile phone or pager". Select the mobile provider for your cellular service. When the text is received it displays: "avayamsg@mss1-nrb.dis.wa.gov Voice Message from xxx-xxx-xxxx Caller: xxxxxxxxx Duration: 00:00 Messaging#: 3604071111.

Email Notifications – These settings are available to Premium users only. These settings are used to receive voice mail messages into your Outlook Inbox. When activating these settings, voice mails deleted from email will NOT delete the message from your Aura voice mail box.

To activate:
Click "Email me a notification for each voice mail message."
Enter your email address.
Click "Include the recording"




My Phone
Use the My Phone tab to:
Set the order and priority for how unread, read and saved messages will playback.
Turn date and time playback on or off.




Personal Lists
Use the Personal Lists tab to set up distribution lists for sending messages to multiple recipients. Recipients must be in the Aura voice mail system. You can have up to 90 lists (11 through 99) with up to 100 entries per list. Once you have set up your personal lists you can access them through your voice mailbox.


Password
Use the Password tab to change the password in your voice mail box. You can also change your password within your voice mail box.