Below is an overview of the different Retention Labels:
Retention Labels allow you to control how long an email is retained.
Your default mailbox retention will be applied to email as it is received instead of waiting 45 days.
Depending on your division/program, your default mailbox retention will be 2 years or 7 years.
You will not be able to change the default retention for the following folders:



Inbox
Sent Items
Archive
Drafts
Calendar
Deleted Items
Outbox
Contacts



If you do not change the retention policy, your folders will retain the default policy and emails within the folders will be deleted after the specified period of time.


You may apply retention to a specific email or by moving it to a folder with a specified retention. You may set retention on:

An individual Email
A folder
A group of Emails
A subfolder
Incoming emails will display a retention period that is your default policy.
The only way to delete an email is for it to reach its retention timeframe.
Do not hit "Delete". Instead, move it to a 45 day folder to let it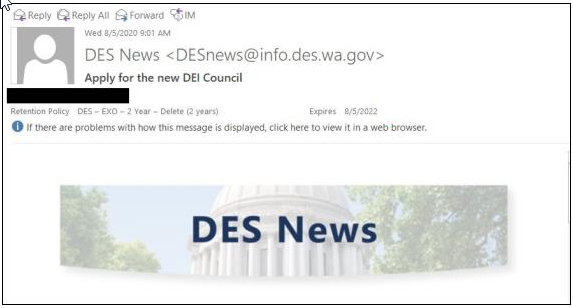 To learn more about Retention Policies, click here to be directed to the Vault Retention Policy Tips page.
For more information on Records Retention, click here.