Opening Teams for the first time
When you open Teams for the first time you will see a series of Welcome screens with basic information.
The final slide gives you the opportunity to view a Microsoft video introducing you to Teams.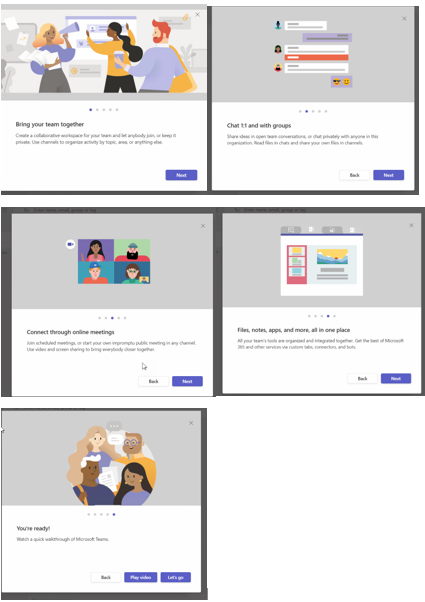 Settings
When you hover over a place you haven't been before, Microsoft gives help bubbles.
Right next to your initials, you will see three ellipses. This opens your Settings.

Settings allows you to change:
How Teams looks and feels

How you get notifications – it is suggested that you experiment with the notification settings to find what works for you.

ETS recommends you auto-start the application so that it is always ready

If you would like to have Outlook work with Teams to show others presence, check "Register Teams as the chat app for Office".

You can also configure your call and voice mail settings. (Calls are reviewed in a separate module)
Teams main space
When you open Teams, you will see options on the left navigation bar
Activity

Chat

Teams

Calendar

Calls

Files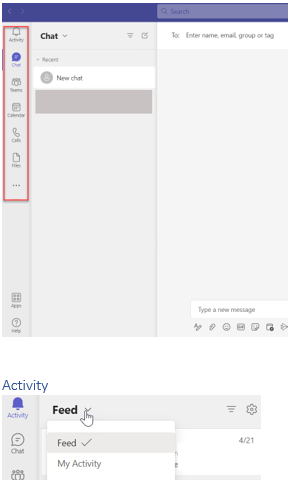 This is where to go to see everything that is going on in your Team universe

Chat – Meeting, One-to-one, and group

Comments

Reactions

Files uploaded



You can show all activity, or limit to your activity



Any activity will be shown with a red number badge

Teams
If you are not assigned to a specific team, you will see only Public Teams available

While these teams are public and available to everyone in the Washington State Tenancy, it is not advisable to join these teams unless you have a specific reason. You do not need belong to a Team to schedule a meeting.


The two functions initially available to you are Chat and Meetings.