Your Teams chat, including the chat of your Teams meetings, is only available in your Teams app for seven days. After this seven-day retention period, all chat content will be deleted, and you will not be able to access it again.
For this reason, you should avoid using chat for important conversations and to share important content; use email instead. If there are circumstances in which you need to retain chat messages for longer than seven days, you must take one of the following actions to make that content available in another location.
Screenshot your conversation
This allows you to save longer conversation threads quickly and easily. Learn more about taking screenshots.
Email individual messages
You can choose to email chat messages to yourself or to someone else; however, each chat message must be sent individually.
1. Hover over the message you want to save
2. Click on the three dots. *
3. Choose "Share to Outlook"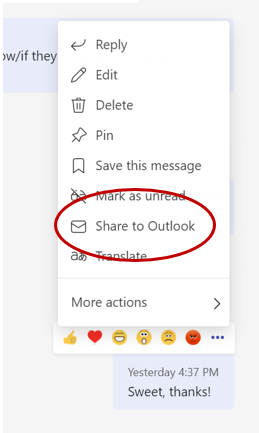 4. Enter your email address (or the email address of someone else) in the "To" field.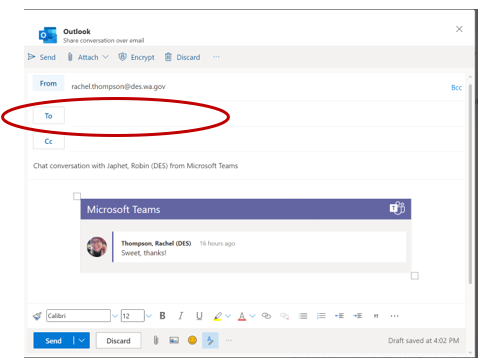 5. Click Send.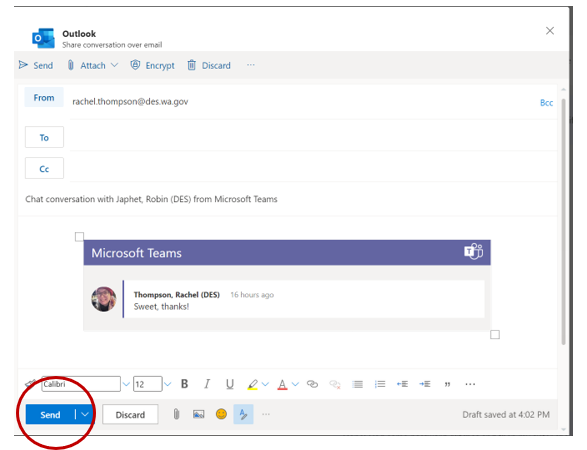 6. The message will be sent to the inbox of the email account you entered.

*When you click the three dots, you will also notice a "Save" option. Click this to save messages you want to easy access to during the seven-day retention period only. You can access all your saved messages by clicking on your profile image then selecting "Saved."
IMPORTANT: Opting to save a message does not save it beyond the retention period. Saved messages are deleted after seven days unless you follow one of the processes outlined in this article.
Save attachments
If someone has shared an attachment with you, such as a document or an image, you can download individual attachments with a couple clicks.
1. Click the three dots next to the attachment.

2. Click "Download."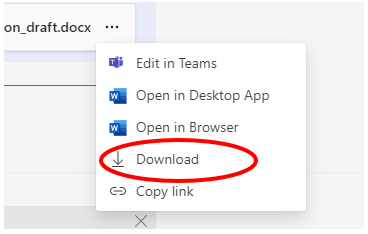 3. The file will automatically be saved to your Downloads folder on your computer.
Why is the retention for Teams chat only seven days?
Chat messages are meant to be used for transitory information only, so a decision was made by the State to only retain chats for seven days. (This reduces the amount of transitory information needed to be reviewed during public disclosure requests.)
This does mean that you have a responsibility to use chat appropriately and to save chats "offline" if they do end up needing to be kept longer.
For more information about records retention requirements, see: Records Retention Schedules or contact the Agency Records Officer, Rachel Thompson.