Focus on content
When content is being shared, you can adjust your view to make it easier to see the content. This is an individual setting and will not affect other meeting attendees.


Click on the "More" to open your meeting options.



Click on "Focus on Content".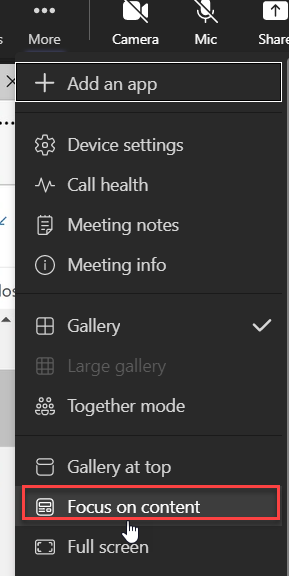 The gallery of faces will be moved and replaced by the content being shared.
For an even larger view, click on "Full Screen".
If you are sharing, please be sure to present your document in a full window.



Turn on Live Captions (Closed Captions)
All attendees have the option to set their own Live (closed) captions. While meeting transcripts are retained, live captions are not retained. They are only available to the viewer during the meeting.


Teams can detect what's said in a meeting, and present real-time captions. Your captions will include speaker attribution—so you'll see not only what's being said, but who's saying it. To turn captioning off or on, click the "more" button and select "Turn on live captions".


Change your view
Customize how you see other people's video during a Teams meeting. For example, you may want to see as many video feeds as you can at one time in a large meeting.
Note: To provide the best possible audio and video quality, you might want to decrease the number of videos you're seeing at once if you're running a little low on bandwidth or device memory.
In the meeting controls, you will see

Gallery

or

Large Gallery

.



The default setting is

Gallery

.



Large Gallery

allows for up to 49 videos on a single screen. However, at least 10 people must be on video for this option to be available.
There are also options to move the gallery to the top.