Each channel has its own file tab. Determine to which channel the new document belongs.
You can upload files or folders directly to the Files tab or create a new file in any Team channel.
Upload a file or folder:
While in a channel, select Files at the top of the app, select Upload, and then choose the file or folder to upload.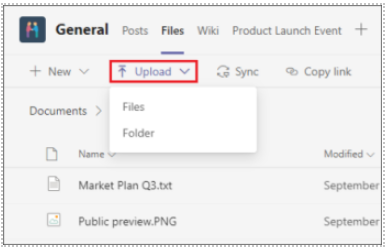 Create a new file:
While in a channel, select New at the top of the app, then choose to create a folder, Word document, Excel workbook, PowerPoint presentation, OneNote notebook, or Visio Drawing.
Note: Linking an existing OneNote will be discussed in another article.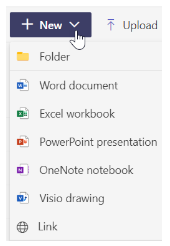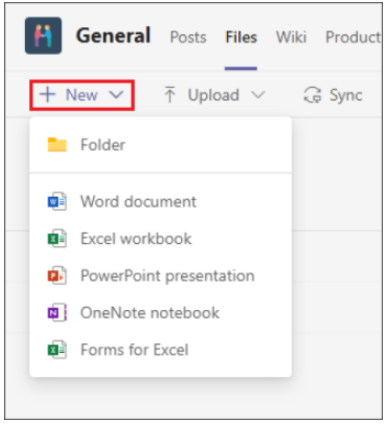 While working in a document in the Teams environment, the document saves automatically and tracks all edits made. There is no need to download, edit, and re-upload a document.
Note: More information on document collaboration in another article
When you are through editing a document, click Close in the upper right corner.

Collaborate on Files
As your team works together, you'll undoubtedly have files that you'll want to share and collaborate on. Teams makes it easy to share files and work on them together. If working in Word, Excel, PowerPoint, or Visio files your colleagues can even view, edit, and collaborate on them, right within Teams.
Files uploaded and shared to a team are accessible to every member of the Team. You and your team members can co-edit MSA Office documents. No need to check files out or worry about if one of your colleagues has the document open. Just open the file you need to edit and if other team members are editing it too your changes will be seamlessly merged as you work.
Additional Tools
Editing Here you can indicate whether you want to work with the file as an editor (the default) or reviewer, or simply view the file.

You can share a link directly with specific

recipients or

copy the link. NOTE: only those with access to the channel will be able to open the link. If

you want to share the document with someone outside the team, you should download it. If you would like someone to have access to the channel, please contact IT4U.

You can add a comment to the document

You can catch up on edits made by teammates while you were away.

You can start a conversation about the document. This conversation will appear as a "post" on the channel Post page

. Team members can access the document and respond to the conversation without having to dig through the files.
The "more" ellipsis allows you to open the document in a browser or download it.

Open document in Desktop application
Working in the Team environment doesn't always give you all the features of desktop Word and Excel. Or you may want to work on a document and still see what's going on in your Team.
Team gives you the option to "Open in Desktop App"

After it opens in the desktop app, this message appears. Select "Close file"

.

Once you are in the desktop app, you can continue to work normally.

DO NOT do a "save as".

Turn the AutoSave on.

You may periodically select the "save" button.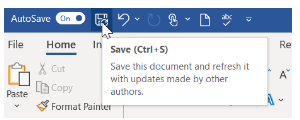 Once you are done editing, click the

"X" in the upper right corner to close the document. All your changes will be saved to Teams

.